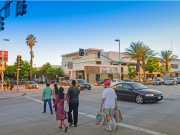 Hanley Investment Group Real Estate Advisors, a nationally-recognized real estate brokerage and advisory firm specializing in retail property sales, announced today the firm completed the sale of a rare fee-simple ground lease underlying The Shops on Lake Avenue retail and parking on South Lake Avenue in Pasadena, Calif. The property is shadow-anchored by Macy's. The terms of the sale could not be disclosed.
Torrance, CA - October 23, 2013 - (RealEstateRama) -- Lee & Associates, one of the nation's largest broker-owned commercial real estate services firm, has negotiated a $6.6 million cash sale of a 18,735-square-foot multifamily property located at 171 N. Wilson Ave. in Pasadena, Calif
PASADENA, CA - July 18, 2011 - (RealEstateRama) -- Real Estate Mortgage Network, Inc. (REMN), is continuing its retail expansion in Southern California with the opening of a new office in Pasadena. The office will be led by Los Angeles lending industry veteran Tami Murphy, who joins REMN as the company's latest Branch Manager. Murphy will report directly to fellow industry veteran, Kevin Hoyt, who joined REMN as the company's Western Regional Retail Manager earlier in April.