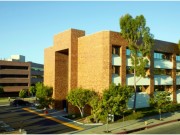 Cotton Medical Center, Meridian's 115,000-square-foot, two-building medical office complex located at 50 Alessandro Place and 50 Bellefontaine Street in Pasadena, California, won the award for "Best Renovated or Repurposed Healthcare Facility." Located in Los Angeles County, this renovation was Meridian's first ambulatory out-patient value-add medical office acquisition in Southern California.
RAMONA, CA - February 25, 2013 - (RealEstateRama) -- C.W. Driver, a leader in Southern California healthcare construction, has completed construction on Palomar Health's Ramona Ambulatory Care Center, a new $4.5 million satellite clinic in Ramona, Calif. When open to the community in March 2013, the 7,600-square-foot, single-story outpatient medical clinic built on approximately an acre of land will expand the healthcare services for the Ramona community
Torrance, CA - September 18, 2012 - (RealEstateRama) -- HGA Architects and Engineers (HGA) has relocated to expanded offices in San Francisco to accommodate its growing practice serving healthcare, higher education and cultural clients. HGA's San Francisco office has grown by nearly 25 percent in the past two years, adding shared expertise to the 120-person California practice, which includes the Sacramento and Los Angeles offices
Torrance, CA - September 5, 2012 - (RealEstateRama) -- C.W. Driver, a premier builder serving the Western United States since 1919, has hired Steven Nelson as vice president of estimating in the firm's Pasadena office. In his role, Nelson will act as a trusted advisor for the firm's long list of clients and will be responsible for providing estimates on the firm's preconstruction services and proposals, as the company continues to grow. A 30-year industry veteran, Nelson's extensive experience will be a crucial component to the firms various practice areas including commercial and industrial projects, healthcare, retail and education
Torrance, CA - August 20, 2012 - (RealEstateRama) -- HGA Architects and Engineers (HGA) has hired Ronald Benson, AIA, NCARB, LEED® AP, as senior associate in its Los Angeles office. A licensed senior project manager with more than 25 years of international and domestic experience, Benson will join the firm's higher education and healthcare practice groups.