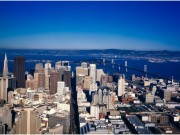 The TransAmerica Pyramid used to be the tallest building of the Bay City, but the recently inaugurated SalesForce Tower has stolen its title, with its 61-stories and 1,070 feet. This project is only the beginning of a series of infrastructural plans set out to revamp San Francisco's skyline in the years to come.
San Diego rental home or property is just as important as caring for the home you live in yourself. Whether you rent out a single-family home, multi-family or other investment property, maintenance is an important part of extending its life and helps avoid having to make major repairs.
Morgan Hill, CA - December 23, 2009 - (RealEstateRama) -- After much speculation by the general populace (and the real estate industry) and much consternation by Congress, the much-anticipated extension of the First-Time Homebuyer Tax Credit has been passed.
May 28, 2009 - (RealEstateRama) — With signs pointing to a slow recovery for the new housing market, a bill is quickly making its way through the California Legislature that would add two years to existing tentative subdivision and parcel maps.
A California Court last month ruled that a seller of a condominium could be liable for fraud because that seller did not disclose to the buyer of the condo that water intrusion problems were so bad that two (2) separate lawsuits were filed to address them.
There's some good news on the horizon for homeowners in cities like San Diego, Washington D.C. and Sacramento, Calif., where the real estate boom and bust has left those markets reeling from the effects of overbuilding, bad loans and foreclosures.