Washington, D.C. – January 13, 2015 – (RealEstateRama) — U.S. Representative Ed Royce (R-Calif.) questioned witnesses on reducing the risk carried by taxpayers for the National Flood Insurance Program (NFIP) during a Housing and Insurance Subcommittee hearing entitled "Opportunities and Challenges Facing the National Flood Insurance Program."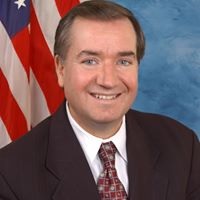 "Mr. Ellis, you said that 'masking subsidies with lower rates prevents policyholders from understanding their true level of risk.' Is my understanding correct that, under the current program, policyholders just see the premium payment that they need to make, right?" asked Rep. Royce.
"That's my understanding," confirmed Mr. Stephen Ellis, Vice President at Taxpayers for Common Sense.
"How difficult would it be to break out the subsidy? How difficult would it be to make transparent the amount the government, or other taxpayers, are covering on behalf of the homeowner?" continued Rep. Royce.
"One of the challenges will be for many of the policies that get the grandfathered subsidized rate, the pre-flood insurance rate map subsidies, they don't know the actual elevation of the actual policy. I think it'd be something worth doing, especially considering, as we've recommended, that anything going forward trying to do affordability issues that the subsidy or support be means tested and outside the rate structure. So I think it'd be a valuable effort, Congressman Royce," answered Mr. Ellis.
"It seems to me that if you could capture the information, the increased transparency would have a positive impact on future decision-making. It would probably decrease moral hazard and increase mitigation efforts perhaps. But letting the policyholder understand that upfront would be helpful," replied Rep. Royce.
"The Flood Insurance Reform Act of 2012 attempted to address the issue of repetitive loss properties, where multiple claims had been made on the same property. The GAO found that while these properties amount to only 1 percent of policies, they account for nearly 40 percent of all program claim costs. Do you think the 2012 reform bill gave the NFIP the tools necessary to address high-risk repetitive loss properties? What else could be done there?" asked Rep. Royce.
"Certainly in Biggert-Waters 2012 they had the provision there for increasing rates for severe, repetitive loss properties. That did not get changed in the subsequent legislation, that is still going on. We think that is a positive step," concluded Mr. Ellis. "Looking at some of the programs FEMA already has, they have the ICC program with the $30,000 cap. You could potentially increase that cap on trying to help people elevate, mitigate, or relocate. As you pointed out Congressman, it is such a drain on the program, that those are… the best investment to try and mitigate or relocate them out of the flood plain."
"I agree. I think we need to indicate what the actual rate is, we need to write actuarial rated policies," added Ms. Patty Templeton-Jones, Executive Vice President and Chief Program Advocate of the Wright National Flood Insurance Company. "The challenge is, like Mr. Ellis has said, unless we have the elevation certificate and… [for] your pre-FIRM properties, your older properties, your properties that are in the B, C, and X zones… we don't have elevation data. Without that elevation data, we can get an idea, and come April 2016 FEMA is implementing clear, concise information to the policyholder. But again, not having that elevation is an impediment to it."
Watch Rep. Royce's questioning of the witnesses here or by clicking on the image below:
Contact: Saat Alety (202-225-4111)
Source: U.S. Representative Ed Royce