New Retail and Lifestyle Center to Offer Collection of Restaurants, Shopping and Entertainment
BAKERSFIELD, CALIF. – (RealEstateRama) — Local developers C & C Properties, Inc. and MarkChris Investments announced their plans for the revitalization of East Hills Mall in Bakersfield, Calif. The vision is to transform the enclosed mall into an exciting, destination open-air lifestyle center offering a collection of restaurants, shopping and entertainment in 350,000 square feet. A new, state-of-the-art, movie theater complex will serve as the centerpiece of the new development. The redevelopment project is expected to break ground late in the second quarter or early third quarter of this year, and be completed in the third quarter of 2018.

The redesign features a large outdoor plaza, water fountain, seating and landscaping in front of the theater complex and the adjacent buildings. On either side of the theater are a variety of major retailers, boutique shops, quick-serve restaurants, a coffee house and sit-down restaurants. In addition to the main building area, the new owners plan to add several buildings along Mall View Road for shops, restaurants and services. The proposed design includes an activated and welcoming streetscape and approachable storefronts that connect with pedestrians and provide plenty of opportunities to sit and socialize.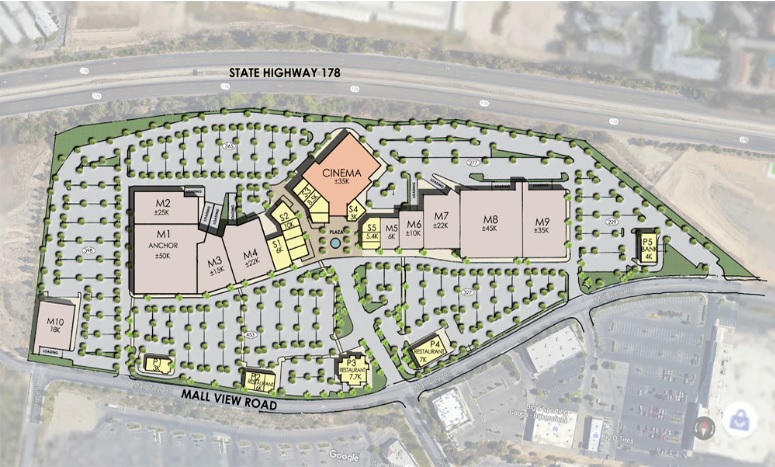 "We are looking forward to providing Bakersfield and especially northeast Bakersfield, an exciting, first-class shopping and entertainment experience," said Craig Carver. "Our design inspiration is a blend of mid-century modern and contemporary-style architecture so it will uniquely stand out in the market."
Carver said that they have received a lot of interest in the location and are currently in lease negotiations with several national and regional retailers and restaurants as well as a national theater chain.
The new owners completed their purchase of the 414,000-square-foot regional shopping center on December 23, 2016. Duane Keathley, Vince Roche and Josh Sherley of Cushman & Wakefield | Pacific Commercial Realty Advisors represented the buyer and seller in the sale. The seller was Retail Equities, LLC of Modesto, Calif. and El Corte Ingles of Spain, Madrid. Keathley, Roche and Sherley have been retained to lease the new shopping center.
"We are excited that local developers recognize the potential of the retail demand in northeast Bakersfield and will execute on a vision to bring a vibrant retail and entertainment center to an underserved retail submarket of Bakersfield," said Vincent Roche, Senior Director/Principal, Cushman & Wakefield/Pacific Commercial Realty Advisors.
"National retailers look for the strong demographics and high traffic counts that this location offers," added Roche.
Built in 1988 on 36.4 acres, East Hills Mall is located on Mall View Road, between Mt. Vernon Avenue and Oswell Street with excellent visibility and access to Highway 178. According to Roche and Keathley, there are 250,000 people in the project's primary trade area and approximately 500,000 people in a 10-mile radius. There are more than 93,000 cars per day along highway 187 at Mt. Vernon Avenue and 70,500 cars along the highway at Oswell Street.
"This redevelopment has been a long time coming," said Duane Keathley, Senior Director/Principal Cushman & Wakefield/Pacific Commercial Realty Advisors. "It's great news for the people of east Bakersfield and for the City of Bakersfield in general. It will be an impressive retail and entertainment center."
C & C Properties and MarkChris Investments have completed numerous residential, industrial, commercial and retail development projects in the City of Bakersfield over the last 25 years.
# # #
For leasing information:
Duane A. Keathley
Senior Director/Principal | Broker Lic. 00935011
Cushman & Wakefield | Pacific Commercial Realty Advisors
Tel: (661) 633-3816
duane.keathley (at) paccra (dot) com
www.paccra.com