Project provides greater efficiency and a more collaborative work space for the growing brand
Burbank, CA — (RealEstateRama) — McCormick Construction, a premier builder shaping the culture of buildings and businesses throughout the Western United States since 1914, has completed construction on a 14,000-square-foot interior renovation project for beverage manufacturer, Neurobrands llc's, corporate office located at 2550 N. Hollywood Way in Burbank, California. Neurobrands originally occupied two disconnected office suites in the North Hollywood Way office building, which is in close proximity to the Hollywood Burbank Airport.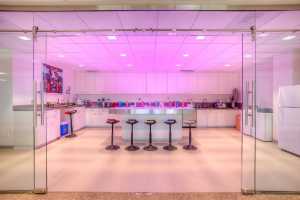 Due to Neurobrands' recent success, the company needed a larger space where employees could advance and develop current and new products, including the company's popular Neuro line of drinks. In an effort to create a more dynamic and collaborative work environment, McCormick worked with designer, DSR Design Inc., to incorporate more company branding and desirable office features like natural lighting, more efficient work spaces, collaborative areas and additional amenities.
In order to accelerate the construction schedule and deliver the office space within 12 weeks McCormick completed the project in two phases, while only occupying up to 35 percent of the space at one time.
"Corporate interior improvement projects present a variety of challenges; however, ensuring businesses maintain normal operations is our primary consideration," said Michael McCormick, president and CEO of McCormick Construction. "As a result, early collaboration, strategic planning and up-to-date knowledge of the permitting process are key factors in delivering a successful tenant improvement project."
During phase one, employees were all moved from the approximately 12,000-square-foot main office suite to the second office suite, known as "the executive wing." The work completed in phase one comprised the addition of two conference rooms, featuring glass walls and large glass sliding doors, 15 new executive offices, 50 open workspaces and a new kitchen/breakroom. McCormick also constructed a new product development laboratory with a 3Form glass table where Neurobrands' "drink scientists" will work to create new products.
Phase two included moving employees from the executive wing into the newly renovated space while the executive wing underwent renovations. After four weeks of renovations in the executive wing, both spaces had been completely renovated and employees were allowed to return to their respective locations. To ensure Neurobrands remained fully operational throughout the entirety of the construction process, McCormick worked nights and weekends in order to complete the project on-time and on-budget.
A major focus of the project was to create a more collaborative environment within the office that would foster creativity and product innovations. Larger meeting spaces and open-concept common areas were created to allow employees to meet and discuss new concepts and strategies, helping to facilitate a strong team-focused corporate culture.
"McCormick's decades of experience in tenant improvement projects made them the easy choice for us to partner with for our corporate office renovation," said Calvin Larson, corporate communications and technology director of Neurobrands llc. "We're thrilled to have this new space for our employees, so that they can continue to develop groundbreaking products that promote health and well-being."
In order to provide a more sustainable and healthy work environment, McCormick installed energy efficient lighting systems that comply with Title 24 regulations and incorporated more natural light throughout the office via daylight harvesting – a technique that reduces the amount of overhead lighting needed by more efficiently using (or adding) ambient light sources such as windows and skylights, as well as integrating automatic dimmers when natural lighting is sufficient.
McCormick's project management team also included Alan Hartley, director of interiors; and David Valenti, superintendent.
McCormick's recent tenant improvement project experience also includes Los Angeles Kings Training Facility, Contract Services Administrative Trust Fund, CBS Radio, and Citrus Tower Office Building, all of which are located in Los Angeles.
McCormick Construction
Since 1914, McCormick Construction has been impacting the culture of buildings and businesses in the Western United States. McCormick specializes in providing a full-range of services, including general contracting, pre-construction, construction management, design-build and tenant improvements. McCormick is dedicated to delivering quality workmanship and contributing to the well-being of the community in public service, job creation and economic growth. McCormick specializes in corporate and creative office, entertainment, education, interiors, retail, and multifamily residential complexes. McCormick's multifamily experience includes mixed-use and hospitality projects. McCormick has completed projects across California, Arizona, Nevada, and Utah. For more information, please visit www. mccormickbuilds.com.