July 15, 2009 – (RealEstateRama) — The Jordan Downs Recreation Center served as the meeting place for the Jordan Downs Redevelopment planning meetings. Residents, Housing Authority staff, stakeholders and the Master Planning Consultants held their third meeting on July 11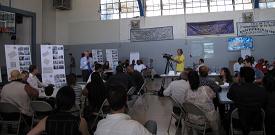 After introductions, status updates and a report on the existing conditions of Jordan Downs, the residents broke into groups to discuss housing models they would like to see built. Drawing from the information gathered from their trips about different models, the residents had an active discussion of what kind of building they want to see at the new Jordan Downs. The 7 sample models the Master Planning Consultants provided served as the guiding points and offered a range of options from high-rise, mid-rise apartment buildings to single family homes. The residents were conscious of the space limitations, safety and practicality matters. The models offered different arrangements of parking, open space, entrance, etc. After the discussions, the groups presented their models to the larger group.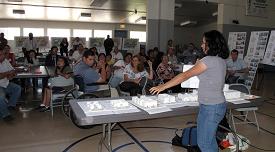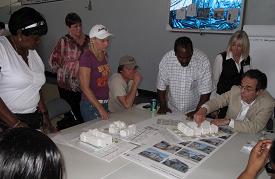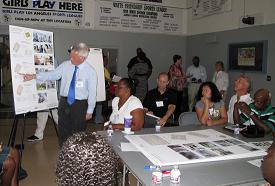 Betty Day from the Watts Gang Task Force and a long-time community activist attends every meeting.
"This is the greatest thing that has happened in years. It's been a long time coming, but it's going to be really worth it," said Day.  "They [the Housing Authority] are doing everything they are supposed to and more than that. They make us feel a part of Housing." She thinks the new Jordan Downs will be better for kids and families and improve overall conditions.
Martha Fausto, 17, who is a youth member with the Jordan Downs Advisory Committee, says she wanted to be involved in the process to learn more about her community, neighbors, and be part of creating better living standards and services for the residents. Fausto added that she joined the CAC to put "not just bricks on a building but new services where kids will be safe and have educational programs."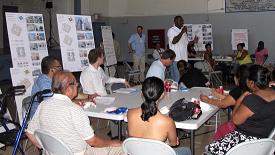 HACLA Planning and Intergovernmental Affairs Department Director John King II thanked the residents for their participation and stressed the importance of two-way communication. He encouraged them all to attend the next meeting which will focus on the human capital development component. "We are trendsetting and are doing something groundbreaking," King said.
Source: HACLA Media Relations Dept