WSS and Krispy Kreme Doughnuts Celebrate Grand Opening in 17,430 SF Building
OXNARD, Calif. – (RealEstateRama) — Hanley Investment Group Real Estate Advisors, a nationally-recognized real estate brokerage and advisory firm specializing in retail property sales, announced today that the firm is marketing for sale a newly-constructed two-tenant retail building occupied by WSS (Warehouse Shoe Sale) and Krispy Kreme Doughnuts, located at the signalized intersection of Vineyard Avenue and Riverpark Boulevard in Oxnard, Calif.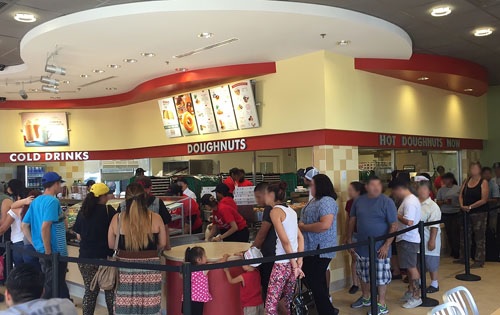 The listed price is $10,337,000, representing a cap rate of 5.0 percent.
The 17,430-square-foot retail building is located on 1.52 acres at 210-220 Riverpark Boulevard, at the southwest corner of Riverpark Boulevard and Vineyard Avenue, in Oxnard. Hanley Investment Group President Ed Hanley, along with Eric Wohl, executive vice president, and Jeremy McChesney, senior vice president, are marketing the retail triple-net absolute property for sale.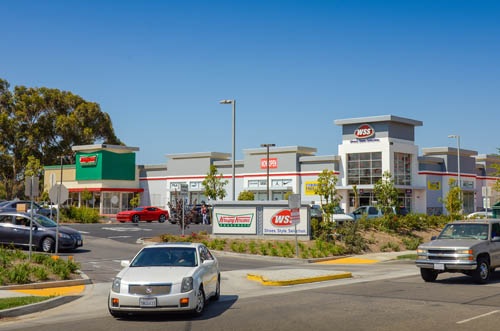 Hanley said that when Krispy Kreme had its grand opening, people camped out in tents in the parking lot the night before to be first in line and cars and people were lined up for hours on opening day.
"Both tenants are enjoying tremendous success at this new location," said Wohl.
According to Hanley, WSS has a brand new 10-year lease guaranteed by corporate with 10 percent rental increase in the sixth year and four five-year options with increases. WSS has over 75 locations and is one of the fastest growing shoe retailers in the U.S. "WSS has successfully been operating in the immediate trade area for over 30 years, which speaks to the proof of this concept and success of the retailer," Hanley noted.
"Krispy Kreme Doughnuts has a new 15-year lease guaranteed by the exclusive franchisee and area developer for Krispy Kreme in Southern California," said Wohl. "The absolute triple-net lease has no landlord responsibilities and includes 10 percent rental increases every five years and three five-year options with increases."
McChesney reports that this is a high-profile freeway-visible location shadowed by a newly-constructed McDonald's. "This is a great location, just off the Vineyard exit of US Highway 101, visible to over 133,000 cars per day traveling along the main north/south artery connecting Ventura and Los Angeles counties. The building is also in close proximity to The Collection at RiverPark, a 650,000-square-foot outdoor lifestyle shopping center anchored by Target, Whole Foods, Century Theatres 16 and XD, REI, H&M, 24 Hour Fitness Super Sport, The Container Store, Red Robin and ULTA, among others," McChesney added.
In addition to the two-tenant retail building in Oxnard, Hanley Investment Group is currently marketing for sale a variety of retail assets including single-tenant retail buildings, multi-tenant strip centers, community shopping centers and mixed-use residential/retail buildings.
"Two-tenant retail investments, like single-tenant retail investments, are an attractive passive investment with minimal management responsibilities for investors. Their triple-net lease structures typically have the tenant responsible for most expenses, creating a hands-off investment and reliable income stream," said Hanley.
"We are seeing 1031 exchange buyers that have sold management intensive investments like multi-family investments," said Hanley. "We have also seen a lot of family trusts purchasing these types of assets for estate planning purposes and holding these type of properties long-term to pass down to their heirs. Single-tenant and two-tenant retail investments will continue to be one of the most sought-after retail investments in today's market and in the foreseeable future."
About Hanley Investment Group
Hanley Investment Group Real Estate Advisors is a retail investment advisory firm with a $5 billion transaction track record nationwide, who works closely with individual investors, lending institutions, developers, and institutional property owners in every facet of the transaction to ensure that the highest value is achieved. For more information, visit www.hanleyinvestment.com.