LOS ANGELES, CALIF. – (RealEstateRama) — CBRE Executive Vice President Philip D. Voorhees announced today that he and his National Retail Partners – West (NRP-West) team completed the sale of Silver Lake Collection, 10,497 square-feet of urban street-front in the Silver Lake enclave in the city of Los Angeles, Calif. Situated in "Sunset Junction," the property is 100% leased to three contemporary restaurant and beverage tenants. The sale price was $13.30 million.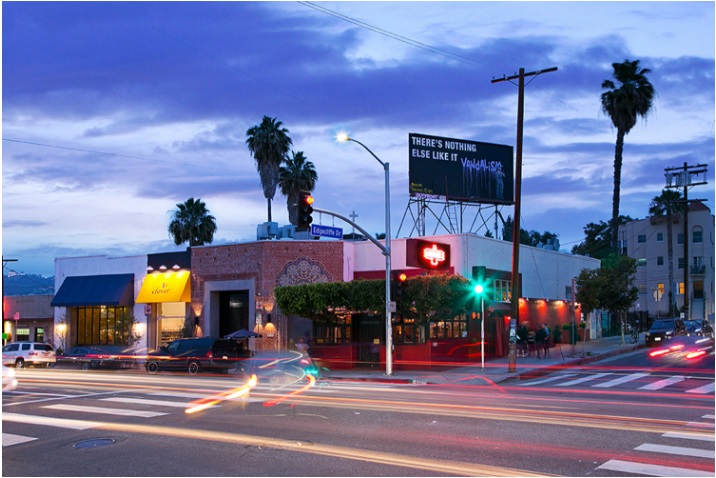 CBRE's retail investment experts Voorhees, Todd Goodman, Preston Fetrow, Kirk Brummer, Megan Wood, Matt Burson, Jimmy Slusher and John Read, represented the seller, 9 Mile Investments, a Los Angeles-based real estate development company. The buyer, also represented by CBRE's NRP-West, was a subsidiary of Strategic Realty Trust, Inc., a San Mateo-based real estate investment trust who acquired the Silver Lake Collection as an addition to its portfolio of urban, street retail properties.
According to Voorhees, the CBRE team's marketing system distributed more than 464 offering memoranda to investors and brokers, and through the team's "managed bid" offer process, generated nine offers to purchase the property."Conventional, street-front retail projects like The Silver Lake Collection have long been a favorite for our team. The property's high-performing restaurants not only anchor the project but the neighborhood, making the property an integral part of the community," said Voorhees.
"Silver Lake emerged as among the hottest neighborhoods in LA over the past two to three years, and rental rates have followed," Voorhees noted. "By all indications, popular restaurants Sawyer, Kettle Black and El Condor thrive at this property. CBRE expects The Silver Lake Collections' high-water $1,300 per-square-foot sale price will feel like a value for this sort of one-of-a-kind asset and location in Silver Lake over the next several years."
Originally built in 1934 and 1940, the building was remodeled in 2016 with a total tenant and landlord cost exceeding $2.55 million and consists of two parcels on a 0.36-acre site along Sunset Blvd., which is one of the trade area's primary arterials. The property was 100% occupied at the time of the sale.
In 2015, the NRP-West team, formerly known as National Retail Investment Group – West (NRIG-West), was CBRE's #1 retail investment team nationally with a total transaction volume exceeding $940 million in 63 transactions, encompassing 88 properties, totaling more than four million square feet in size. With this closing, CBRE's NRP-West team has closed 205 transactions since the start of 2012 for a total consideration of $3.7 billion. In total, the NRP-West team has listed and sold more than $9.7 billion in retail transactions. Select NRP-West Team California listings include Tucson Marketplace in Tucson, AZ, listed for sale for $4,518,000; 17th Street Promenade in Costa Mesa, Calif., listed for sale for $26,466,000; and 17th & Newport in Costa Mesa, Calif., offered for sale for $14,848,000. More information is available at www.cbre.com/nrpwest
The NRP-West team focuses exclusively on retail investment properties in the western states (including CA, OR, WA, ID, NV, MT, WY, UT, AZ, NM and HI). The team's ability to collaborate across CBRE's multi-discipline platform enhances the team's role as strategic advisors to western U.S. clients in the disposition and acquisition of retail properties and ensures the delivery of superior results in today's investment market. Long recognized as industry-leading investment experts, the NRP-West team continues to specialize in portfolio sales, anchored centers, strip centers, single-tenant assets, specialty retail projects, REO and Receivership assets and parcelized disposition strategy opportunities. Based in Orange County, Calif., the team consists of specialists with institutional and private client relationships, and leverages institutional quality knowledge and service across unparalleled access to private capital investors and the brokers who represent them, domestically and around the world. View listings: listings.nrpwest.com
About CBRE Group, Inc.
CBRE Group, Inc. (NYSE:CBG), a Fortune 500 and S&P 500 company headquartered in Los Angeles, is the world's largest commercial real estate services and investment firm (based on 2015 revenue). The Company has more than 70,000 employees (excluding affiliates), and serves real estate investors and occupiers through more than 400 offices (excluding affiliates) worldwide. CBRE offers a broad range of integrated services, including facilities, transaction and project management; property management; investment management; appraisal and valuation; property leasing; strategic consulting; property sales; mortgage services and development services. Please visit our website at www.cbre.com.