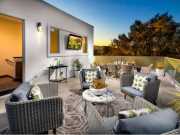 International award-winning firm KTGY Architecture + Planning and national award-winning homebuilder Trumark Homes announce Perch, a collection of townhomes with innovative floor plans that create a brand-new transit-oriented urban village on 2.7 acres in the heart of downtown Dublin, California.
More
...
SAN FRANCISCO, CA - May 19, 2011 - (RealEstateRama) -- PCCP, LLC has announced that it has partnered with Signature Development Group to acquire Tralee Village, a nearly complete Class A apartment project in Dublin, California. Once complete the high-end, condominium quality apartment community located in the Bay Area will include 130 units. Over the coming months, Signature Development Group out of Oakland, California, will manage various aspects of project completion. PCCP will then transition the property to full-time third party property management in the fall of 2011. Pre-leasing is expected to begin in July with first occupancy for the completed units occurring in August.
WASHINGTON, DC - May 28, 2009 - (RealEstateRama) — California's Tri-Valley region has been named a 2009 Ambassador City by the National Association of Realtors<sup>®</sup> and the U.S. Conference of Mayors for its Tri-Valley Housing Opportunity Center, a nonprofit housing counseling organization that promotes affordable rental and homeownership opportunities.