Congressman Doug LaMalfa (R-Richvale) issued the following statement after the House passed H.R. 6147, the Department of Interior, Environment, and Related Agencies Appropriations Act.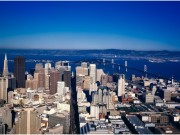 The TransAmerica Pyramid used to be the tallest building of the Bay City, but the recently inaugurated SalesForce Tower has stolen its title, with its 61-stories and 1,070 feet. This project is only the beginning of a series of infrastructural plans set out to revamp San Francisco's skyline in the years to come.
In honor of Public Schools Week, Rep. Jared Huffman (D-San Rafael) today introduced the Investing for Tomorrow's Schools Act of 2018 to help repair and improve America's school buildings and public libraries, upgrade broadband infrastructure, and cut energy and maintenance costs.
With electric vehicles (EVs) hitting California streets in record numbers, a new study by Environment California Research & Policy Center and Frontier Group highlights best practices to help local officials make their cities as EV-friendly as possible.
Rep. Jared Huffman (D-San Rafael) today voted against a destructive, partisan funding bill for fiscal year 2018 that would cut much-needed funding and investments from national priorities like education, infrastructure, and health care, while undermining the Environmental Protection Agency's ability to protect clean air and clean water.
U.S. Congressman Scott Peters (CA-52) voted against a partisan government spending package that, among other drastic measures, completely eliminates the U.S.-Mexico Border Water Infrastructure Grant Program. These grants support a bi-national partnership that has funded and would continue to fund repairs to sewage infrastructure that is at risk of rupturing and causing sewage spills that effect San Diego.
Nearly $5 million in federal grants to purchase 10 zero-emission shuttles and associated electric charging infrastructure for Norman Y. Mineta San Jose International Airport was awarded over the past two months, announced U.S. Rep. Zoe Lofgren (D-San Jose) today.
A new, nearly $3.2 million federal grant was awarded to the Norman Y. Mineta San Jose International Airport to purchase six zero-emissions shuttle buses and associated charging infrastructure, announced U.S. Rep. Zoe Lofgren (D-San Jose) today
U.S. Congressman Scott Peters (CA-52) voted in the Energy and Commerce Committee to advance the Drinking Water Systems Improvement Act, a comprehensive update to the Safe Drinking Water Act that authorizes $8 billion over five years for drinking water revolving funds, allows these funds to be used to repair or replace existing treatment facilities and pipes, and increases the use of smart technology for safety and compliance.
Congressman Ken Calvert (CA-42) delivered remarks on the House floor in support of H.R. 3219, the Make America Secure Appropriations Act. H.R. 3219 includes the appropriations bills for defense, military construction and veterans, energy and water, and the legislative branch.
The U.S. House of Representatives passed an amendment to an FY 2018 appropriations bill (H.R. 3219) offered by Congresswoman Julia Brownley (D-Westlake Village) and Congresswoman Grace Napolitano (D-El Monte) that would ensure California's ports and harbors receive a fair share of funds for port and harbor infrastructure.
Rep. Jim Costa (CA-16) released the following statement in response to President Donald Trump's executive order to build a wall on the U.S.-Mexico border. "Building a wall on the U.S.-Mexico border is not a real solution to fixing our
Rep. Jim Costa (CA-16) released the following statement after the Water Infrastructure Improvements Act for the Nation (WIIN) Actwas introduced with language to assist in reducing the impacts of California's drought crisis and to build additional long-term
Rep. Jim Costa (CA-16) released the following statement in response to Rep. John Garamendi (CA-3) introducing the California Long-Term Provisions for Water Supply and Short-Term Provisions for Emergency Drought